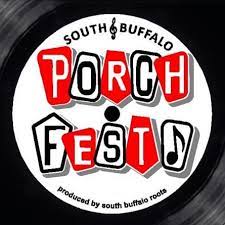 Registration now open!
Cut off date for registration: May 21st
South Buffalo Porchfest is a music festival that takes advantage of the "stages" all over our neighborhood. Musicians set up on a porch (or deck, driveway, or other place) and those passing by are treated to a concert. Pretty good, huh?
This festival is organized by South Buffalo Roots, the promoters of the South Buffalo Irish Festival (southbuffaloirishfestival.org), and is inspired by the other porchfests around the country.
To sign up your porch, your band, or to be a volunteer or sponsor, simply click the appropriate link at the top of the page!