Meet Tamarah Begay, AIA.  Tamarah is the first female member of the Native American Navajo tribe to become an architect and an AIA member.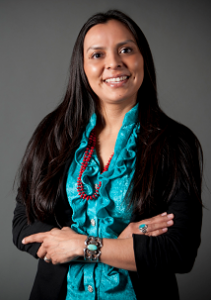 Tamarah Begay, AIA is principal-in-charge at Indigenous Design Studio + Architecture, LLC (IDS+A) in Albuquerque, N.M., an architectural and planning firm that works predominately with Native American tribes. Begay has more than 12 years of experience with tribal work in public safety, judicial, residential, commercial, office facilities, educational facilities, housing projects, cultural centers, multi-purpose buildings, feasibility studies and master planning. She is a graduate of the University of New Mexico, where she was a founding member of the Student Chapter of the American Indian Council of Architects and Engineers. She is currently an adjunct professor at University of New Mexico's Indigenous Design + Planning Institute where she teaches Navajo Planning and Design, the first course of its kind. She mentors Native American students in the field of architecture and related degrees.
On Thursday March 26, 2015 at 6:00 pm, Tamarah will lecture at the University at Buffalo School of Architecture and Planning.  The lecture will focus on Tamarah's story of becoming an architect, and how her heritage and story have shaped the focus on her research, practice and outreach.  This is a free, public lecture, and the community is invited and encouraged to attend. The lecture will be held in Crosby Hall (Room 301), located on UB's South Campus and is being planned and provided by the UB NOMA Student Chapter.