A few years ago, after joining the American Institute of Architects National Diversity and Inclusion Council, I learned a statistic that I would like to share with you.
Less than 0.5% of AIA members are Native American and less than a handful are Native American women architects.
I found this statistic shocking. Shockingly unacceptable.
Meet Tamarah Begay, AIA.  Tamarah is the first female member of the Native American Navajo tribe to become an architect and an AIA member.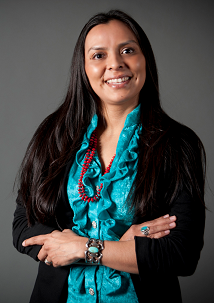 Tamarah Begay, AIA is principal-in-charge at Indigenous Design Studio + Architecture, LLC (IDS+A) in Albuquerque, N.M., an architectural and planning firm that works predominately with Native American tribes. Begay has more than 12 years of experience with tribal work in public safety, judicial, residential, commercial, office facilities, educational facilities, housing projects, cultural centers, multi-purpose buildings, feasibility studies and master planning.  She is a graduate of the University of New Mexico, where she was a founding member of the Student Chapter of the American Indian Council of Architects and Engineers. She is currently an adjunct professor at University of New Mexico's Indigenous Design + Planning Institute where she teaches Navajo Planning and Design, the first course of its kind.
We are fortunate in the Western New York region to be geographically located near many Native American communities in both the Southtowns and the Northtowns. We have the opportunity to reach out in these communities to provide programming to children and adults who may not otherwise have opportunity to learn about architecture and design. With funding and support provided by American Institute of Architects National Diversity and Inclusion Council, Tamarah will be visiting Buffalo to work with Native American students from Lake Shore School District and give a public lecture at the University at Buffalo School of Architecture and Planning.
Student Workshop:  The Buffalo Architecture Foundation's Architecture + Education Program, which historically is provided in Buffalo Public Schools, is a pipeline program that encourages children to learn about architecture and design and possibly pursue careers in architecture. Though our connections and experience with this program, we are happy to announce this exciting opportunity.  Tamarah, along with volunteers from the Architecture + Education program, UB NOMAS and the Darwin Martin House Education team will be hosting a three-day workshop at Lake Shore Elementary to introduce architecture and design concepts to the students.  Students will learn about Native American planning principles and build models of a Hogan, which is a traditional dwelling of the Navajo people.  In the following days, students will participate in a design charrette – sketching and building ideas and solutions for their own communities.
Public Lecture:  On Thursday March 26, 2015 at 6:00 pm, Tamarah will lecture at the University at Buffalo School of Architecture and Planning.  The lecture will focus on Tamarah's story of becoming an architect, and how her heritage and story have shaped the focus on her research, practice and outreach.  This is a public lecture, and the community is invited and encouraged to attend. The lecture will be held in Crosby Hall (Room 301), located on UB's South Campus and is being planned and provided by the UB NOMA Student Chapter.
Thank you to the following organizations for their support on these programs:
For more information on any of the events, please contact us at [email protected].