Each year, the Buffalo Architecture Foundation works with Arts Partners for Learning (APL) to provide programming throughout Western New York.  
Arts Partners for Learning's mission is to expand access to arts education in the eight counties of WNY, and to improve the capacity of cultural organizations in these counties to provide quality creative learning programs.  APL is a regional partnership with the vision to create opportunities for arts and cultural organizations to work with schools and ultimately improve the educational outcomes for children.  APL comprises over 20 partners from the arts and cultural community who offer programs to area schools.
This year, BAF is working in Holland, New York at H.O. Brumsted Elementary School.  Our first program was just completed with Jeff Furcron's 6th grade Social Studies class with our teaching artist, Rebecca Gamarra.  Rebecca taught the group of students about Ziggurats, which is a rectangular stepped tower, built in the ancient Mesopotamian valley around 2100 B.C.E.  Ziggurats acted as temples and many included a shrine at the top.
During the first session the students learned about what a Ziggurat is, how it was constructed, and its significance in its culture.  Each student made their own "mini-ziggurat" in order to understand the form and mass of the ancient structure.

During the following sessions, the class moved onto constructing the large-scale model right in their classroom.  Each student constructed their own 'bricks'.  Just as the ancient Mesopotamians did, the students laid their brickwork into place to create a 4 foot tall Ziggurat.  The students had to work individually to ensure that each brick was constructed flawlessly so it would fit into place within the structure.  The students also worked together to construct the four levels, ensuring that each of the were bricks aligned perfectly.  This process mimics how the ancient workers laid millions of bricks to create structures over 300 feet tall.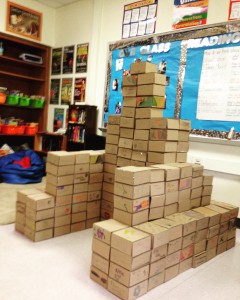 In addition to building of the bricks, the students personalized each of their bricks.  Any king who built an addition onto a Ziggurat, had each and every new brick stamped with an inscription identifying himself as the builder of the addition.  Since each student doodled or wrote their name on each brick that he or she made, the final product is not just a fun mock up, but also a display of diversity in the classroom.
Our next program will be with 4th graders at H.O. Brumsted Elementary School teaching geometry through urban planning principles.  Stay tuned!