Running from April to June, the Buffalo Architecture Foundation, in partnership with the Darwin Martin House Complex, provided Free Youth + Family Workshops for the citizens of Buffalo and the greater WNY area. The workshops were held at the Delavan-Grider Community Center, and The WASH Project.
Our first workshop theme was Designing Skyscrapers Using Patterns. The kid participants constructed their very own 3ft tall skyscraper – measuring with a ruler, marking with a triangle and scoring with an exacto knife (with volunteer help of course!). We discussed scale and proportion by comparing the sizes of humans to buildings. Once our skyscrapers were raised, we compared the size of us to the skyscraper, and then we compared the size of a 1/8" scale figure to the skyscraper. We realized that through the eyes of the 1/8" scale figure, the skyscraper we made was really tall! To decorate our facades, we worked on different patterns using lots of colorful objects and materials!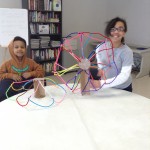 Our second workshop theme was Designing for Buffalo's Waterfront.  Kids and families constructed models to represent their ideas for Buffalo's waterfront. Our imaginative participants created a school, an aquarium, a tower, a ferris wheel, carnival swings and even a reimagined skyway!
Our third workshop theme was Exploring the Martin House using Shapes. With the Darwin Martin House education team, participants designed their own art glass windows using nature as inspiration. Using transparent shapes, kids and families created representations of things found in nature such as plants, animals, fruits, the sun and landscapes. Volunteers from the Darwin Martin House were on-site to offer their expertise in Frank Lloyd Wright's art glass windows.
For our first three workshops, we had:
60 kids total in attendance
10 volunteers
12 hours of instruction time/volunteer time
Starting in September, we will be back at the Delavan-Grider Community Center, The WASH Project and the Darwin Martin House with three more Free Youth + Family Workshops!

Special Thanks to our Program Partner, the Martin House Complex.