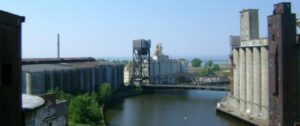 This tour is a one-of-a-kind experience! We'll take you to the top of a grain elevator on this unique Silo City tour experience.
You'll experience all of the history and mechanics of the grain elevator, as well as the malt production process on this in-depth tour of the former Perot Company grain elevator and malthouse. We'll have some spectacular views of Buffalo, Lake Erie, and the other grain elevators from the top. You'll also see the current redevelopment work in progress at Silo City.
Please note that Silo City: Vertical is a physically demanding tour, and we do not recommend it for those with a fear of heights. Participants in this tour must be physically able to take stairs up approximately 150 feet (ten stories) to reach the top – and then come back down! The elevators have been out of commission for years, so stairs are the only way to go.
The tour meets at Silo City, 120 Silo City Row, Buffalo, NY, 14203. Turn from Ohio Street onto Silo City Row, and enter Silo City through the gate. Follow the signs for Duende parking, past Duende (in the yellow brick building that will be ahead on your right). Ample parking is available on site just past Duende. This tour is approximately two hours in length. Please note that substantial portions of the Silo City Vertical tour are interior spaces; however, these buildings are well ventilated due to open doors and windows.
Traffic Note: The Ohio Street bridge over the Buffalo River near Silo City is currently closed for repairs. Please plan for additional travel time to follow the posted detours.
Cost:
General Admission: $50
Explorer Pass Members: $45
Required Assumption of Risk, Release of Liability, and Indemnification Agreement for Silo City Tours: Please note that the online reservation process includes this agreement that is required for access to Silo City; a copy will be included in your reservation's email confirmation.
Tour Procedures & Policies:
Reservations are required for all tours, including for Explorer Pass members. Walk-ups without reservations cannot be accommodated. The Silo City Vertical tour is limited to six guests per tour.

Reservations close two hours before the tour's scheduled start time (for example, reservations close at 8am for a 10am tour).
Reservations can be made online; please email [email protected] or call (716) 245-3032 if you need assistance.
If you have an Explore Buffalo walking pass (orange or blue), please email [email protected] to reserve your tour.
The Explore Buffalo docent for your tour will have a list of tour reservations for their tour; you do not need to print or bring any tour confirmation.

Children & Student Admission is for children ages 6-18 or college students with a valid student ID. Children ages 5 and under are free and do not require a reservation.
Accessibility: Please contact us at [email protected] or (716) 245-3032 if you plan to attend this tour and will require accommodations or if you have questions about accessibility.
If you feel ill or suspect you may be experiencing symptoms of COVID-19, please do not attend any Explore Buffalo tours. We will be happy to refund your reservation or welcome you to join us at a later date.
Please wear comfortable walking shoes and dress for the weather. In the event of weather that requires a tour cancellation, we will contact registered tour guests in advance of the tour.
See our FAQs page for our refund policy and answers to other questions.
By confirming your reservation for any Explore Buffalo tour, you acknowledge and accept Explore Buffalo's tour policies.
Tour Note: Some areas of Silo City are at times home to flies and insects that can be a nuisance on the tour; those who are sensitive to insects may wish to bring insect repellant to this tour.