Design a Library, Build a Community
This was an Open, Two-stage, Design Competition to design, construct, and install a contemporary book shelter in underprivileged neighborhoods in Buffalo, NY.  Submissions received from 7 states and 4 countries were accepted until September 1st, 2017.
Architects, designers, sculptors, carpenters, students, etc. were asked to submit their qualifications, describe their interest in the project, a conceptual design and brief narrative description of their idea.  The submissions are being judged by:
"Ensuring that books are available to any child at any time of the year will be a good first step in enhancing the reading achievement of low-income students and an absolutely necessary step in closing the reading achievement gap."
—Anne McGill Franzen and Richard Allington, 2009
Winners
Title: Reading Room
Designer: Caroline O'Donnell of CODA Design, Ithaca, NY
235 Esser St at Henrietta Avenue hosted by Black Rock-Riverside Neighborhood Housing Services
Title: RU-ME
Designers: Peter Salim and Yoona Ahn, Philadelphia, PA
271 Grant Street outside the Grant Street Neighborhood Center, hosted by PUSH Buffalo
Title: Library Ring
Designer: Andrew Ferrarelli of Stanev Potts Achitecture, Philadelphia, PA
161 Vermont Street hosted by the West Side Community Services Center, sponsored by Gardens Buffalo Niagara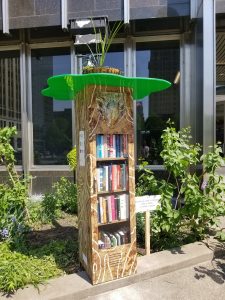 Title: Learning Tree
Designers: Kara Stock and Robert Rumpl, Buffalo, NY
1 Lafayette Square in the Reading Park in front of the Downtown Central Branch Library
Title: Zig Zag Library
Designer: Michael LaValley of Young and Wright Architectural, PC, Buffalo, NY
315 Broadway at Cedar hosted by Abstract Architecture PC, sponsored by AIA Buffalo/WNY
Title: Volumes
Designer: Jeannette Wehbeh, student, Ryerson University, Toronto, ON, Canada
309 Peckham Street hosted by the Common Roots Urban Farm
All of our libraries can be found on the Little Free Library World Map.
Description
Lite
racy-friendly neighborhoods is a grassroots initiative started by Little Free Libraries® that aims to promote literacy, expand literary horizons, cultivate generosity, and promote general neighborliness.  These libraries will facilitate an informal exchange of books in the city's public spaces, where residents and visitors may use and contribute to these communal resources.  The final locations for these libraries have not been established, but all are planned to be in the underserved neighborhoods in the City of Buffalo.
Each entry was asked to address the goals of the Literacy–friendly neighborhood in an urban setting while simultaneously addressing the basic demands of an outdoor enclosure and providing a form that breaks the mold of what has been deemed typical for a Little Free Library.  Creative and innovative designs were encouraged.
Basic Expectations
Reasonably shelter the contents of the library from exterior elements, water-tight is preferable
Provide easy visual access to the contents of the library
Provide a minimum of two lineal feet of shelving or space for 15-30 books
Adequately convey the nature of the BAF to a passerby not familiar with its mission
Must be able to accommodate a Little Free Library® charter sign (8″ wide x 1.5″ tall, white-painted pine)
Consideration for the shared challenges of LFL stewards including easy installation, graffiti, integrating with surroundings, keeping the doors shut, making it accessible at night, serving small children and tall adults alike, and separating various kinds of books
Heightened Expectations
Unique fabrication methods
Distinctive architectural style
Inspires the feelings of surprise and delight
Constructed with recycled, reclaimed, or sustainable materials
Addresses one of more of the most common "dream" features according to LFL stewards including accommodating 50 books or more, accommodating books of unusual shapes and sizes, areas for bookmarks and flyers, bright colors inside so books in the back don't get lost, hook for dog leashes, magnetic door catches, motion sensor lights for night, multiple shelves that can be accessed by children and adults alike, notebook for visitors to comment in, place on top to grow herbs/green roof, and a seating area
Budget Expectations
Traditional, custom-built, high quality, prefinished libraries are available for purchase (as a fundraiser) from the Little Free Library® organization within a price range of $300 to $500; unfinished or some assembly required libraries are available for as little as $165. Entrants are asked to include an estimate of the total cost of their designs with a target budget of $300. Buffalo Architecture Foundation is hoping to select and install up to 10 designs, so the more cost efficient the design can be, the more libraries we can afford to install. As additional funding becomes available this value may increase.
Donations for this and other BAF programs will be graciously accepted on our Donation Page or through our Facebook Fundraiser.
Prizes
Each design team received $300 to build and install its library.
Ribbon Cutting, Exhibition, and Publication
BAF intends for each library to be a permanent installation.
Buffalo Architecture Foundation, in conjunction with competition sponsors, are hosting a formal ribbon cutting ceremony at the site of the Reading Room.  More information will be made available on our Facebook Event page as it becomes available.
A commemorative photo book including written descriptions of each library, photos of the design and construction process, along with the installed finished product will be made available for sale during and following the event.
Schedule
Competition Opens:  June 5, 2017
Submissions Due:  September 1, 2017
Winners Notified:  October 1, 2017
Design Duration (3 months):  October 2017 thru December 2018
Construction Duration (4 months):  January 2017 thru April 2018
Installation dates by site:
Reading Room:  April 21, 2018
Volumes:  May 5, 2018
Zig Zag:  May 12 and May 19, 2018
Library Ring:  May 19, 2018
RU-ME:  June 9, 2018
Learning Tree:  TBD
Ribbon Cutting: 
            June 9, 2018 at Reading Room site, 235 Esser St, Buffalo, NY
Competition Brief
For full contest rules, more information, eligibility and submission requirements, and selection criteria, please download a copy of the Competition Brief.

Little Free Library.org(R)
Little Free Library® is a registered trademark of Little Free Library LTD, a 501(c)(3) nonprofit organization.