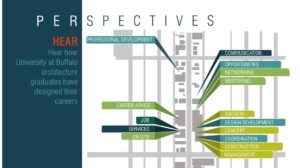 Hear how UB architecture graduates have designed their careers through the Perspectives speaker series. Build your network, cultivate mentorship, and learn about diverse career trajectories and work experiences in a casual, conversational format that encourages Q+A.
Michael's experience as a designer, architect, and educator informs his multifaceted role as Director at Ralph Appelbaum Associates. Michael works closely with RAA's Executive team on project strategy and creative direction, leveraging architectural and multimedia design principles to best express Clients' missions and goals to their audience. He excels at unifying interdisciplinary creative teams of architects, designers, curators, producers, and executives. Michael's training as an architect and 17 years of work at RAA informs his perspective on visitor experience, fabrication, and the seamless integration of narrative experiences into the built environment.
Michael received a Master of Architecture from the University at Buffalo, graduating magna cum laude, and is an Adjunct Professor of Architecture at Pratt University and Maryland Institute College of Art. Michael's work on national and international cultural history, science centers, and corporate projects has received numerous awards.
In the role of Director, Michael guides key aspects of RAA's daily professional practice through his engagement in new business, client on-boarding, contract management, and project management work streams. He designs and implements strategies, methods, and procedures anchored in RAA's culture and vision that allow the practice to best serve its clients. In addition, Michael remains a creative leader within the firm, taking on selected new project commissions.